Your local brewery in Dover, Ohio
Who knew naming a brewery would be a challenge? We were in the process of restoring our nearly century old building for months before the four of us could finally sit together long enough to come up with a name. After a few of our experimental brews, we began reminiscing about "the good old days". Times when we would get together with friends and have a few beverages. Through this conversation we realized that each of us had a common gathering place. The place was Hoodletown!

For those of you who aren't familiar with the concept, it was an area outside of the town, basically an open field, where we would meet up with friends from the surrounding areas. You knew if you went to Hoodletown, you'd run into someone that you knew. To us, Hoodletown Brewing is all about community and the gathering of people together in a relaxed atmosphere. It's about fun and good times. Sharing stories of the past and making memories for the future. Do you have a Hoodletown story?
Hoodletown Brewing Company was founded by Mike Poland and Eric Kinsey. The idea of opening a brewery came to fruition after both had experienced the art of craft brewing on their makeshift all grain home brewing equipment. As lifelong residents of the area, the two felt there was a need in the community for a venue that brought people together to enjoy the company of friends and family over a pint of craft beer.
In October of 2016, the perfect building at 424 W. 3rd Street became available. The guys fell in love with its early 1900's industrial character and decided to follow their dream. After almost 18 months of renovations, numerous setbacks and a little (actually a lot) of blood, sweat, and tears, their vision became a reality.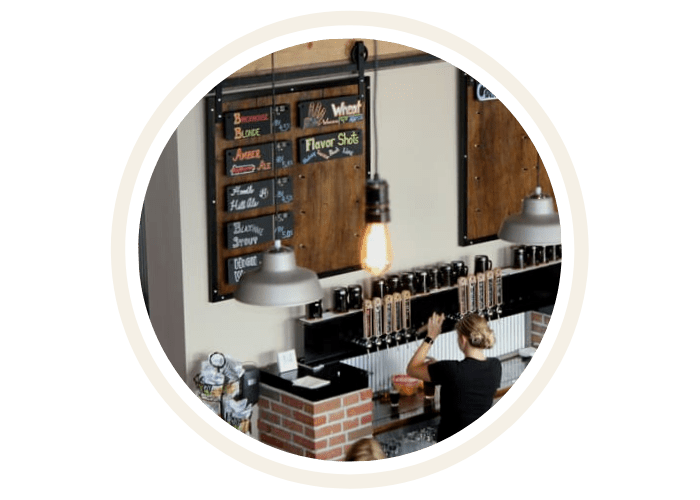 Mike Swartzwelder joined the team with a wealth of brewing knowledge and accomplishments. Mike was an avid home brewer with over 10 years of practice and experience. His awards include:
2014 Best of Show Beer BFB (321 enteries)
2015 GABF Pro Am Brewer (with Weasel Boy Brewing, Zanesville, OH)
2017 National Homebrew Competition – 2 Gold's First Round
Numerous Top 3 Awards in over 50 U.S. Brewing Competitions
Mike is a member of the Society of Akron area Zymurgists and a member of the American Home Brewers Association. We are super excited to have Mike on board and eager to share the results of his talents with our Hoodletown friends.
While attending college at Ohio University, Ethan became interested in the process of brewing beer. His passion for homebrewing lead him into a cellaring position with Jackie O's. After graduating from OU Ethan moved to a brewing position with Ignite Brewing Co. Ethan joined the Hoodletown brewing team in January 2021. We are excited for Ethan to bring his past brewing experience to Hoodletown and create some amazing beer for all of us to enjoy!
Join us for an upcoming event. We host regular euchre tournaments and have live music most weekends. Come and watch your favorite team play on one of many TVs.